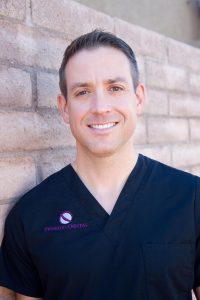 Expert dentist Jesse C. Engle, DMD, brings more than 15 years of experience in general, cosmetic and implant dentistry to Presidio Dental, located in Tucson, Arizona, and serving patients throughout Pima County.
Dr. Engle is a Tucson native who was born and raised in Northwest Tucson. He attended Canyon Del Oro High School and began his professional education at the University of Arizona, where he graduated with honors, earning his Bachelor of Science in biology. The following year, Dr. Engle moved to Massachusetts and enrolled at Boston University Henry M. Goldman School of Dental Medicine. Dr. Engle excelled in the program, obtaining his Doctor of Dental Medicine (DMD) graduating with honors.
After completing his education, Dr. Engle was commissioned as a captain in the United States Army. He was first stationed at Fort Stewart near Savannah, Georgia, where he served two years, providing dental care for soldiers while receiving advanced training from expert dental specialists. After completing two years on the post, Dr. Engle was deployed to Baghdad, Iraq, with the 3rd Infantry Division.
Dr. Engle spent a year in southern Baghdad as a brigade dental surgeon, providing emergency dental care for soldiers. He also assisted in running a busy aid station caring for those wounded in combat. Afterward, Dr. Engle returned to Georgia and fulfilled the rest of his military commitment and was honorably discharged.
The following year, Dr. Engle returned to Tucson and joined a group dental practice. When he was not serving patients, Dr. Engle pursued continuing education in many areas of dentistry. After spending two years with the group practice, Dr. Engle decided to fulfill his dream of owning a dental practice. He opened Presidio Dental in the spring of 2008.
At Presidio Dental, Dr. Engle offers a full suite of preventive, general, implant and cosmetic dentistry services. He and his team also offer patients access to cutting-edge technologies, including cone beam X-rays and in-house sedation, as well as mercury-free and BPA-free crowns and fillings. In addition, patients can access state-of-the-art tools, including orthodontic treatment with Invisalign® clear aligners and Six Month Smiles®, and 3D CT Scanning for implant treatments. In addition, Dr. Engle partners with Dental Creations Laboratory in Oro Valley, which is renowned for its high quality work. He also works with a trusted oral surgeon to assist patients with wisdom teeth removal.
In 2012, after placing implants for five years. Dr. Engle took his implant skills to the next level by completing an Implant Fellowship over four months at the California Implant Institute. It was at this time that he invested in a 3D CT scanner, which made our office one of the first in Tucson to adopt this technology. 3D Scanning allows for safer, more precise implant treatments.
Dr. Engle has a gentle and honest nature that his patients love. He sets aside plenty of time to spend with each patient and develops treatments based on their unique goals and concerns. When he is not at the office or augmenting his professional skills, you can find Dr. Engle spending time with his daughter, Kailey, or spending time in the great outdoors. Dr. Engle is an avid cyclist and competes in events all across Arizona. Dr. Engle and his team welcomes anyone seeking comprehensive dental care to Presidio Dental, and they hope to be your forever dental home.